SPORTS SURFACING SYSTEMS (outdoors)
PRODUCTS BSG
Coating made of full polyurethane, flexible, seamless, anti-slide, water impermeable, resistant to spikes and installed "in situ" (directly at the construction site).
Total thickness of the surface: 14 mm
Colour of the surface at customer`s request.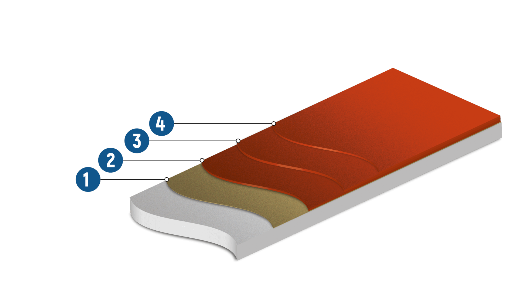 professional athletics tracks

multi-purpose sports fields (optional)

outdoor sports venues and recreation centers
technical parameters according to PN-EN 14877:2014 standard

IAAF Class 1 Athletic Facility certificate № S-10-0119

hygienic attestation issued by the National Institute of Hygiene

tests on contents of trace elements of heavy metals
Tetrapur 25 A (asphaltic concrete)
BASE MAT
(2) (3)1st interlayer

Light granules EPDM 1 - 3,5 mm
Light granules EPDM 1 - 3,5 mm
TOP WEARING LAYER
(4)Surfacing coat

CLOSING LAYERClosing lacquer*

Line paint

* as an option, to prevent the surface from abrasion and UV radiation, it is recommended to spray it twice with the PU lacquer
NOTE: for installing the surfaces in UV sensitive colours like grey, blue, beige, violet etc. it is recommended to apply the UV stable binders at the top layer to avoid the change of colour tint.